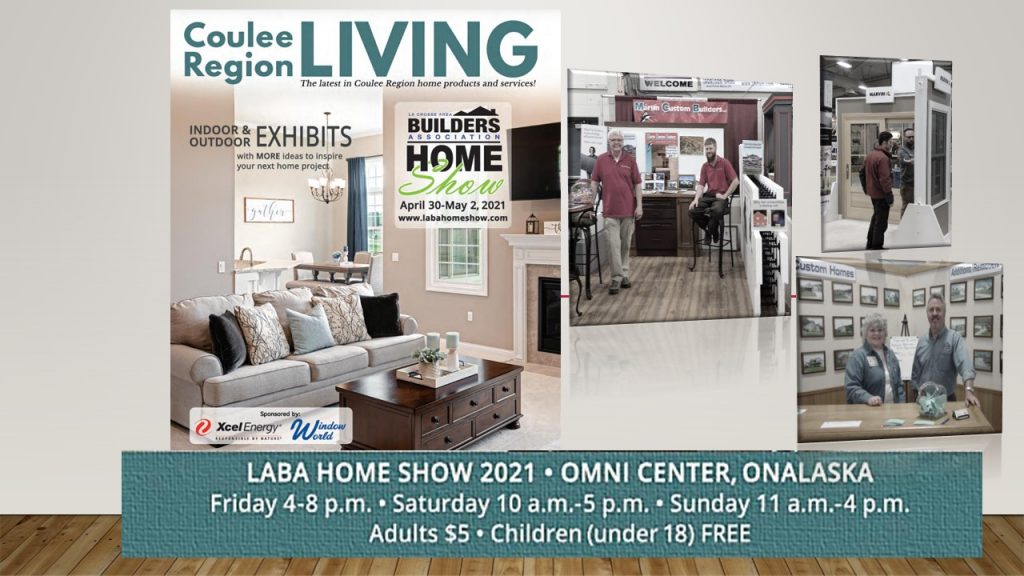 Times:
Friday 4 – 8 p.m.
Saturday 10 a.m. – 5 p.m.
Sunday 11 a.m. – 4 p.m.    
Admission:
Daily Pass –
Adults $5
Children under 18 FREE  
Events Planned
Friday Night Date Night
Try a beverage from local producers!
Saturday Demonstration Day



See Schedule Below
Do It Yourself- How to's!  Learn from the LABA professionals!
  Try a coffee from OMA!
Sunday Family Day



Bring the whole family!  Let the kids explore  cool equipment with our touch-a-truck display and visit therapy dogs from the Coulee Region Humane Society!
Prize Packages Given Away EACH DAY!
Try your luck at the
Advanced Seamless Scavenger Hunt
to get a chance at a daily prize package
valued at $200. 
Bonus: Daily Drawing for a $100 gift certificate EACH DAY!
2021 Exhibitor List (pending)
| | |
| --- | --- |
| Company Name |  Booth Number |
| 1-800-Sealcoat | 28 |
| Advanced Multimedia Solutions | 65 & 88 |
| Advanced Seamless, Inc. | 10 |
| | |
| American Fence Company | 73 & 74 |
| American Home Fireplace & Patio | 14-15 |
| American Waterworks | 114 & 115 |
| ANTS Complete Pest Control | 11 |
| | |
| Audio Video Pros, The | 108-109 |
| Balduzzi Lumber Co., Inc. | 156-1577 |
| Bath Fitter | 98-99 |
| Beaver Builders Supply, Inc. | 93-94, 123-124 |
| Best Custom Homes, Inc. | 60 |
| Benmar Custom Windows | 119 |
| Bluffview Interiors, Inc | 69 |
| | |
| Cason & Associates, LLC | 54 |
| Coulee Region Communications | |
| Century 21 Affiliated | 131-132 |
| Clear Choice Energy Solutions | 75-78 |
| Culpitt Roofing | 112 |
| Custom Curbing | 81 |
| Cutco Cutlery | 130 |
| Eagle Point Solar | 97 |
| EcoWater Systems | 118 |
| Edward Jones | 82 |
| | |
| Fleis Insurance | Vendor Hospitality Sponsor |
| Energyline International | 152-153 |
| First American Roofing & Siding, Inc. | 21-24 |
| Flocks Heating & A/C Inc | 104 & 113 |
| Floorcrafters, Inc. | 154 |
| Ganser Company | 185 |
| Garage Force of La Crosse | 127 |
| Golden View Homes LLC | 79-80 |
| Habitat for Humanity Restore | 114 |
| Hazel Media LLC | |
| Hartland Construction | 92 |
| HDAV | 164 |
| Home Depot | 208-211 |
| Home Maintenance Experts, LLC |  63 & 88 |
| | |
| HotSpring Spas & Pools of La Crosse | 92-95, 120-123 & 127-128 |
| Industrial Coatings Co. |  40 & 47 |
| Industrial Systems & Service | 146-147 |
| Jake's Moving & Storage | 28 |
| JBrooke Garage Door, LLC | 184 |
| Jon Olson Construction, Inc. | 124 |
| Karl's TV & Appliance, Inc | 165-167 & 177-178 |
| Kendhammer Roofing & Construction | 169-170 |
| Kurt Pfaff State Farm | 30 |
| La Crosse County Household Hazardous Materials Dept |  42 & 43 |
| La Crosse Truck Center Ford |  4 (outide), 156-159 |
| Lamke Construction | 125 |
| Larson Home Services and Leafguard Gutters | 109-110 & 116 |
| Lautz Lassig Custom Builders | 187 |
| LeafFilter North of Wisconsin | 46 |
| Lifetime Design Homes | 206 & 207 |
| Mad City Windows & Baths | 172-174 |
| Marble Shop, The | 142 |
| Marlin Homes, LLC | 35 & 52 |
| Mastercraft Homes | 176 |
| Moore & Moore Reno and Construction | 36 |
| Mueller Photography | 99 |
| Nordaas American Homes | 171 |
| Olson Solar Energy | 37-38 |
| Onalaska Music Academy | 34 |
| Outdoor Services, Inc. (OSI) | 135 |
| Overhead Door Company of the 7 Rivers Region, Inc. | 141 |
| Park Bank | 60 |
| Paveman Designs LLC |  5–6 |
| Phillips Outdoor Services | 132 – 134 |
| Pischke Motors Inc | 188-189 |
| Plunkett's Pest Control | 104 |
| Polytek Surface Coatings | 29 |
| Pons Countertops | 31 & 56 |
| Portland Implement | 32-33 & 54-55 |
| Quality Pool & Spa by Paradise | 100-103 & 112-115 |
| Re/Max First Choice – Brandon Cain | 204 |
| Right Choice Construction | 140, 143-145 |
| River States Truck and Trailer | 1-3 (outside) |
| | |
| | |
| Schneider Heating & Air Conditioning | 130 |
| Sebesta Pools | 193-198 |
| Septic Rejuvenating Specialist LLC | 24 |
| SERVPRO of La Crosse County | 57 |
| Solar Connection, Inc. | 44 |
| St. Joseph Equipment Inc. | 168 & 175 |
| T.N. Thompson Enterprises | 192 |
| Techno Metal Post | 199 |
| Top Notch Ultimate Insulation | 45 |
| Town n' Country Title LLC | 139 |
| Used Anew LLC | 61-62 |
| Wausau Homes | 8–9 |
| Wieser Septic & Excavating | 7 |
| Window World of La Crosse, LLC |  65-67 & 84-86 |
| Windows by Pella, Inc. |  148-150 |
| Wisconsin Building Supply, Inc | 160-163 & 180-183 |
| WNB Financial | 205 |
| Woodwerks, Inc | 89 |
| Xcel Energy, Inc. | 11 |
| Your Home Improvement Company | 80 & 105-106 |
| Ziegler Heating & A/C | 41 |
| | |
| | |
Pictures From 2019 Home Show