LABA's Annual Home Show
The 2019 Home Show is March 8 – 10, 2019

A great opportunity to visit businesses to help with building, remodeling, redecorating, landscape design, financing, building supplies and so much more all under one roof. 
This year our Homes Show is packed FULL of Entertainment!
Check out some of special events!
Friday Night Date Night

Try a beverage from Elmaro Vineyard and/or Turtle Stack Brewery as you stroll through the show and discuss at dinner after the show!
Saturday Demo Day

Do It Yourself- How to's!  Learn from the LABA professionals!
PLUS:  Try a coffee from Cozy Coffee OR a try an amazing brew from Pearl Street Brewery and/or a delicious wine from Vernon Vineyards!!
Sunday Family Day

Bring the whole family!  Let the kids be creative and put together some crafts- explore a dump truck and other equipment with our touch-a-truck display OR visit with some dogs from the Humane Society!
Prize Packages Given Away EACH DAY!!!
Try your luck at the
Advanced Seamless Scavenger Hunt
to get a chance at a daily prize package
valued at $200.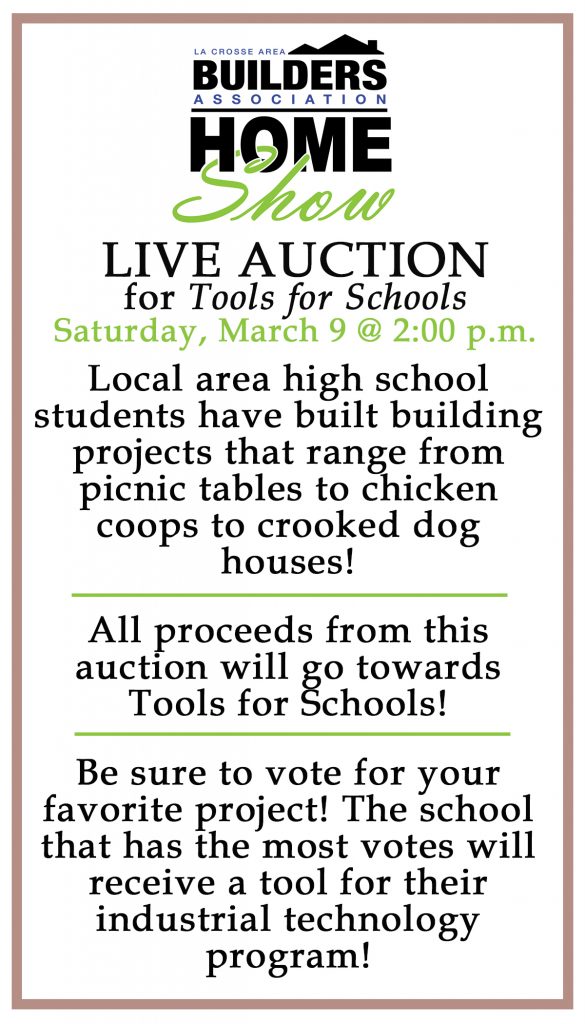 1-800-SEALCOAT
Booth 51

Booth 16

Booth: 154

American Home Fireplace & Patio
Booth 82
American Waterworks
Booth 112-113
Armstrong Landscaping, LLC
Booth 23
Audio Video Pros, The
Booth 90 & 101
Balduzzi Lumber Co., Inc.
Booths: 47-50 & 55-58
Beaver Builders Supply, Inc.
Booth 137-138
Best Custom Homes, Inc.
Booth 46
Beyer Custom Cabinets, LTD
Booth 1

Booth 173

Board Store Home Improvements, Inc., The
Booths: 108-110 & 117-119
Bobcat of the Coulee Region

Borntreger's Custom Cabinets

Booths: 126-127

Booth 171

Centerville Homes, Inc.
Booth: 151

Booth 73-74

Clear Choice Energy Solutions
Booth 61-63

Booth 172

Booth 98

Booth 165-166

Culpitt Roofing Inc.
Booth 29

Booth 148

Drive Auto
Booth 106
EcoWater Systems
Booth 91
Edward Jones
Booth 104
Elegant Stone Products
Booth 86-87
Elite Electrical Solutions, LLC
Booths 135 &136
First American Roofing & Siding, Inc.
Booth 114-116
Flocks Heating & A/C Inc
Booths: 102 & 103
Foam Home LLC
Booth 71 & Outdoor 143
Garage Force of La Crosse
Booth 84
Golden View Homes LLC
Booth 105
Habitat for Humanity
Booth 120
Hallman Lindsay Quality Paints
Booth 60
Hartland Construction
Booth 111
Home Depot
Booths: 31-34
Home Maintenance Experts, LLC
Booth 52-53
HotSpring Spas & Pools of La Crosse
Booths: 37-44
Industrial Coatings Co.
Booth 139
Jake Wieser Construction, Inc./Wieser Septic & Excavating
Booth 3
Jake's Moving & Storage
Booth 35

Booth 174

Karl's TV & Appliance, Inc
Booths 128-131
Kitchen Change LLC

La Crosse Hazardous Materials Facility

Booth 85

Booth 66

Booth 149-150

Booth 144-146

Lautz Lassig Custom Builders
Booth 22
LeafFilter Gutter Protection
Booth 92
Lifetime Design Homes
Booths: 27-28
Marble Shop, The
Booth 17
Marlin Homes, LLC
Booth 24 & 25
Mastercraft Homes
Booth 83
Modern Technology Interations LLC
Booth 72
Moore & Moore Reno and Construction
Booth 36
Mueller Photography
Booth 107
NHANCE (Floor Restore & More)
Booth 93

Booth 167

Onalaska Music Academy
Booth 15
Outdoor Services, Inc. (OSI)
Booth 81
Overhead Door Company of the 7 Rivers Region, Inc.
Booth 2
Paradise Valley Concrete
Booth 93

Booth 70

Paveman Designs LLC
Booths: 99 & 100
Per Mar Security
Booth 30
Phillips Fencing
Booths 168-169

Booths 163-164

Booth 155

Booth 59

Booth 170

Proformance Construction
Booth 132 & 133
Pure Living, LLC
Booth 11
Quality Pool & Spa by Paradise
Booths: 6-9 & 12-14
Re/Max First Choice – Brandon Cain
Booth 134

Booth 153

Right Choice Construction
Booths 67-69
River States Truck and Trailer
Outdoor Booths: 140-142
Schneider Heating & Air Conditioning
Booth 45
Sebesta Pools
Booth 75-79

Booth 147

Booths 170 & 175

Booth 162

Booth 152

Used Anew LLC
Booth 64-65
Wausau Homes
Booths 4 & 5
Western Wisconsin Healthcare Emergency Readiness Coalition
Booth: 88-89
Whitehorse Construction
Booth 80
Window World of La Crosse, LLC
Booths: 94-97
Wisconsin Building Supply, Inc
Booths: 18-21 & 122-125
Xcel Energy, Inc.
Booth 10

Booths 156-159

Ziegler Heating
Booth 121
Pictures From 2018 Home Show