Parade of Homes
Dates, Times, Map, & Tickets
Welcome to the La Crosse Area Builders Association Parade of Homes.
The 2021 Parade:
 In-Person/Virtual Tour
August 2021
View the Virtual Parade of Homes
---

Ticket Pricing 
$10 pre-sale/online/at door
Limited to children 16 and older. Please do not bring children under 16 to the homes.  Thank you for your cooperation.
Visit as many of the Parade Homes as you wish – you are allowed to visit each home once. Your ticket will be punched at each home. You will also receive a BONUS look so you can go back and view one home a second time.
View Ticket Locations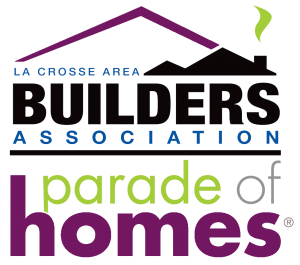 LABA offers the 2021 Parade of Homes for several reasons.
Member builders can show off their talent and speak with attendees in person.
The public can see what is current in the market for housing and design, showcasing the work of our associate members.
We raise money so the association can advocate for the building industry and help our builders offer safe and affordable housing. We can also continue the philanthropic side of the association (Building Careers Tools for Schools, WTC scholarships, etc.)
---
We are excited to offer homes for your in-person review. The homeowners are allowing the public to enter their homes to view their beautiful construction and design. PLUS we are adding a new feature this year: virtual home tours! The virtual tours will go live after the in-person tour and will feature two additional homes – eight homes in total showcased in a virtual self-guided tour.
View the 2020 Parade Homes and Builders
2020 Parade of Home People's Choice
Thank you for voting!
Congratulations to the winner of the 2020 Parade of Homes People's Choice is MasterCraft Homes – Home #3! 
The voting was so close this year that we have two honorable mentions: Coleman Custom Homes with Home #6 and Lautz Lassig Custom Builders with Home #4
One of the highest honors a LABA Builder Member can receive is to have his or her Parade entry named "People's Choice" and you have the power to make that happen!
Provide your information so you have an opportunity to win 1 of 4 $50 VISA gift cards thanks to our sponsor Heidlage Masonry. The winners will be announced soon!
You can also decide to give your email information so we can make sure you are on our emailing list to receive notification of upcoming Parades as well as the LABA Home Show held at the Onalaska Omni Center.
People's Choice
Parade of Homes Coulee Region Living magazine
Check out the Parade of Homes Coulee Region Living magazine cover featured in and created by the Coulee Region Women's magazine!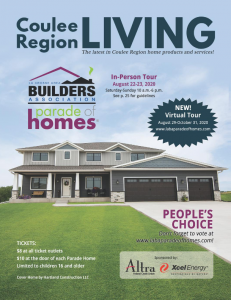 View The 2020 Magazine
Guidelines for In-Person Parade of Homes Tours
Our #1 priority is to provide a safe environment for our attendees, homeowners, volunteers and staff.
Thank you for abiding by the guidelines for the in-person Parade of Homes
Please DO NOT attend the in-person Parade of Homes if you are not feeling well or experiencing any COVID-19 symptoms.

Please remember that families live in the majority of the Parade Homes. The pieces of furniture are not staged but are their personal items.

Masks will be required inside all Parade Homes out of respect to the homeowners. Please bring your own mask.

Before you enter the home, we ask that you sanitize your hands (available at each home).

We will monitor the number of attendees allowed in the home at one time to make sure attendees and staff can maintain social distancing.

Shoe coverings or socks are required inside each home. You can pick up a pair of shoe coverings at the first home you visit. Please keep these with you for the duration of the Parade of Homes and use them at each home that you tour.

We will do our best to limit touch points such as door handles, etc. We kindly ask that you refrain from touching any surfaces, furniture, etc. to help prevent the spread of any germs.

To reduce touch points, certain areas of each home may be roped off. Please do not enter any roped off areas.

Volunteers will be disinfecting higher touch points throughout the day.

The minimum age of attendees is 16.
2020 Parade of Homes Sponsors